Chapter 1
Most ministers will not admit there are corruptions in Scripture. However, the corruptions are there, but not as originally written or inspired. Scripture forbids adding to or taking away from the original form. Even though most ministers do not acknowledge corruption in the Scriptures, they do exist.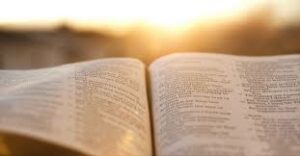 Jeremiah 8:8 How can you say, We are wise and we have the written law of the Master (and are learned in its language and teachings)? Behold the truth is, the lying pen of the scribes has made of the law a falsehood (a mere code of ceremonial observances).
Deuteronomy 4:2 Do not add to the Word which I command you, and do not take away from it, so as to guard the commands of Elohim which I am commanding you
Deuteronomy 12:32 All the words I am commanding you, guard to do it – do not add to it nor take away from it.
Proverbs 30:6 Do not add to His words, Lest he reproves you, and you be found a liar.
II Peter 1:20 knowing this first, that no prophecy of Scripture came to be of one's own interpretation.
Revelation 22:18 For I witness to everyone hearing the words of the prophecy of this book: If anyone adds to them, Elohim shall add to him the plagues that are written in this book
Revelation 22:19 and if anyone takes away from the words of the book of this prophecy, Elohim shall take away his part from the Book of Life, and out of the set-apart city, which are written in this book.
How does one understand Scripture?
Isaiah 28:9 Whom shall he teach knowledge? And whom shall He make to understand doctrine? Them that are weaned from the milk and drawn from the breasts.
Isaiah 28:10 For precept must be upon precept, precept upon precept; line upon line, line upon line: here a little and there a little.
We do not personally interpret Scripture. Scriptures interpret Scriptures – here a little and there a little. This Scripture is very accurate if one goes to the trouble to search it out.
John 10:35 If He called them Elohim, to whom the word of Elohim came – and it is impossible for the Scripture to be broken.
The word ("god") is actually Elohim which has three meanings; singular and plural in Genesis where both are used at Creation for the Father and the Son. Later, it is used to mean a judge in Israel. The Scripture cannot be broken. It is like a giant picture puzzle. You cannot force a piece in a place where it does not belong to complete the puzzle. It either fits or it does not. Any word, topic or doctrine, must fit with all the other words on the same subject. If it does not fit, it is either a corruption or was not in the original text.
Is Scripture your authority or source for truth, or are you part of the "Yeah but" crowd – rejecting certain doctrines because they are too hard or uncomfortable for you? This is what I call selective obedience. I feel sorry for you. Many will learn this the hard way.
Many famous and wise people have recognized the authority and power of the Scriptures.
Abraham Lincoln said, 
 "I believe the bible is the best gift ("god") has given to man."
Page 11