Genesis 1:26
And
Elohim
said, "Let Us make man in Our image, according to Our likeness, and let them rule over the fish of the sea, and over the birds of the heavens, and over the livestock, and over all of the earth, and over all the creeping creatures that creep on the ground.
Genesis 1:27
And
Elohim
created the man in His image, in the image of
Elohim
He created him – male and female He created them. Man is not only in
Elohim's
image, but man has the potential to have
Elohim's
Spirit, Mind, Character, and even more as we will see later in this chapter. This explanation leaves room for past civilizations and other non-human beings that pre-date man. So, how old is mankind? On my website, www.yahsassembIy.org, I have information on research done by credible scientists, and to their amazement, by studying the DNA of human mitochondria, they prove man to be only 6,000 years old which is exactly what the Scriptures say.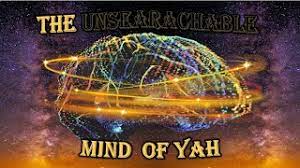 Scriptures can be divided in three ways; 1/3rd is history, 1/3rd is prophecy, and 1/3rd tells us how to live a righteous life. It is a gift of truth and an instruction manual on how to live a healthy, happy, and prosperous life. So why is mankind and planet earth now facing extinction, not in decades, but is in the process right now, as I have already stated? Mankind has experienced and tried every form of government and practiced every kind of religion and for all our technology, we are no better off. There is no lasting peace, we are not healthier, most of mankind is not very prosperous, and our environment is not greener, more sustainable, or cleaner. This book is to prove to you why mankind continues to fail and why the New World Order will fail too! There is no better, crueler or harder teacher than the human experience. Man can not seem to learn from the mistakes of the past, and he keeps trying the same things over and over and keeps getting the same results. As we all know, that is the definition of insanity. Killing two-thirds of humanity will not fix the problem either. General Douglas McArthur's quote from a speech to the U.S. Congress gives us some good information: "Men, since the beginning of time, have sought peace. Various methods through the ages have been attempted to devise an international process to prevent or settle disputes between nations. From the very start, workable methods were found as far as individual citizens were concerned, but the mechanics of an instrumentality of larger, international scope have never been successful. Military alliances, balances of power, Leagues of Nations, all, in turn, failed, leaving the only path to be by way of the crucible of war. The utter destructiveness of war now blocks out this alternative. We have had our last chance. If we will not devise some greater and more equitable system, Armageddon will be at our door. The problem basically is theological and involves a spiritual recrudescence and improvement in human character that will synchronize with our almost matchless advances in science, art, literature, and all the material and cultural developments of the past 2000 years. It must be of the spirit if we are to save the flesh! McArthur has nailed it! A Spiritual Change, is a change in human nature from a carnal or fleshly mind and spirit to a true, transformation of the heart that has the Creator's Set-Apart Spirit dwelling in it – what the world calls His (Holy Spirit).
Jeremiah 31:31-33
Jeremiah 31:31
See, the days are coming, declares the Master that I will make a renewed covenant with the house of Israel, and with the house of Judah: page 32