The world is deceived – all of its governance, culture, education, false pagan traditions, of men are a lie. Everything is part of the Babylonian System in Satan's world. Study and prove it for yourself.
4. As much as possible, stay off the grid and limit the use of all electronics. They are killing and brainwashing you.
5. Stop using social media. They are gathering information that is putting your life in danger and the lives of your loved ones as well.
6. Stop listening to mainstream media. The Olivet Prophecy,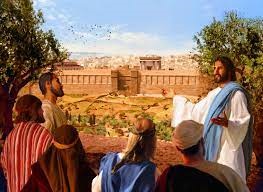 Matthew 24, Mark 13, and Luke 21 is the true news that is happening right now. The message for the times we live in is quite clear.
Luke 21:36 Watch then at all times and pray that you are counted worthy to escape all this about to take place, and to stand before the Son of Adam." The signs are everywhere. Do not get distracted and caught up in the Stupid. They are lying to you.
7. Stop being a Sheeple – as much as possible. Use passive resistance. No is a very powerful word. They can only take from you what you let them.
8. Seek natural and Spiritual means for your healing. Study it! Poison does not heal.
9. Do not take the mark. Trust Him who created you – not men who want to enslave and kill you. Do not take their vaccines.
10. Repent, Repent, Repent.
Jeremiah 18:8-18.
Jeremiah 18:8 and that nation shall turn from its evil because I have spoken against it, then I shall repent of the evil that I thought to do to it.
Jeremiah 18:9 And the moment I speak concerning a nation and concerning a reign, to build and to plant it,
Jeremiah 18:10 and it shall do evil in My eyes in not obeying My voice, then I shall repent concerning the good with which I spoke of doing to it.
Jeremiah 18:11 And now, speak to the men of Judah and to the inhabitants of Jerusalem, saying, "Thus said Elohim, "See, I am forming evil and devising a plan against you. Return now every one from his evil way, and make your ways and your deeds good."
Jeremiah 18:12 But they shall say, "It is no use! For we walk according to our own plans, and we do each one the stubbornness of his evil heart."
Jeremiah 18:13 Therefore thus said Elohim, "Ask now among the nations, who has heard the like of this? The maiden of Israel has done what is most horrible.
Jeremiah 18:14 Does the snow of Lebanon cease from the rock of the field? Or do the cool flowing waters from afar dry up?
Jeremiah 18:15 But My people have forgotten Me, they have burned incense to what is false, and they have stumbled from their ways from the ancient paths, to walk in bypaths and not on a highway,
Page 11