SATAN'S PLAN FOR MANKIND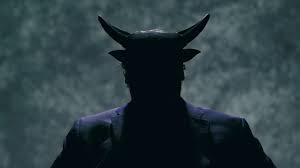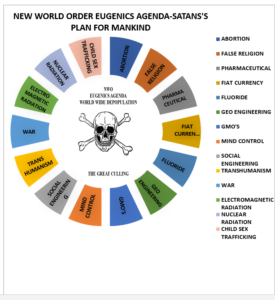 Abortion: It is not a choice, is murder–the taking of a life which begins at conception.
Isaiah 44:2, Thus saith the Messiah, thy redeemer, and he that formed thee from the womb,
Isaiah 44:24 I am the Messiah that maketh all things; that stretcheth forth the heavens alone; that spreadeth abroad the earth by myself;
Isaiah 49:1 Listen, O isles, unto me; and hearken, ye people, from far; The Messiah hath called me from the womb; from the bowels of my mother hath he made mention of my name.
Isaiah 49:5 And now, saith the Messiah that formed me from the womb to be his servant, to bring Jacob again to him, Though Israel be not gathered, yet shall I be glorious in the eyes of the Messiah, and my Elohim shall be my strength.
False Religion: Satan's greatest deception is to get mankind to worship him instead of the True Creator. See the study on my website www.YahsAssembly.org.
It covers False Religion. As explained in the Study on Replacement Theology
3. Pharmaceuticals: Vaccines and Drugs. The big, big Some ingredients in vaccines are as follows: mercury, aluminum, human fetal cells, Naga lease, live pathogens – all things that cause autoimmune diseases such as autism, Gilliam Bar Syndrome, etc. There are volumes of information on the net, and it is simple to prove for yourself. You can also look up the ingredients on government websites. They will tell you that these ingredients are toxic, yet they go into vaccines which are big moneymakers. Most drugs do not really heal anything. They just mask the symptoms and make you financially and physically dependent upon them. The truth is, the body was created to heal itself when given the right supplements and foods. Many medical doctors have discovered this and in good conscience made the switch to natural cures. TRUTH ABOUT HEALTH
4. Fiat Currency: Is not worth the paper it is printed on. The only true money in Scripture is gold and silver. The debt is unsustainable, beyond trillions. The Globalists created it and they will crash it when they think the right time is in sight. The fix will be a cashless or digital currency which will be more worthless than paper money but will have the power to control people's lives. Total slavery!. Read The Creature from Jekyll Island by G. Edward Griffin.
5. Fluoride: This is an aluminum waste by-product developed by the Nazis to sedate their captives. It is a neurotoxin sold to the sheeple as a cavity fighter, however, just the opposite is true. It also causes bone cancer and mental disorders. After all, it's expensive to dump toxic waste – so why not sell it to the public which is a story for another time. Many other toxins, fetal tissue, and poisons have entered our food chain, especially at McDonald's, things like fetal tissue and Human parts.
6. Geo-Engineering/climate change: This by far is the one single greatest threat to the survival of planet earth. Again, it is well documented on the net by Geo-Engineering Watch.org. which along with other websites has volumes of documentation.
I am 78 years old–old enough to remember what the real blue sky looked like. The tic-tac-toe cloud patterns we see today are caused by Chem Trail Spraying. This is climate warfare. Fossil fuels make up only the smallest percentage of climate change. If they can get the public to believe it is fossil fuels that are causing problems then the globalists will gain more control by implementing Agenda 21, Agenda 2030, The Green New Deal, etc. We lose more freedoms while the globalists make more money. Do your homework. Weather anomalies such as snow in the desert that does not melt, 70 degrees in the Arctic, 30 degrees one day and 60 plus degrees the next, fires and floods the next day, and the list goes on.
What is in a chemtrail – heavy metals, aluminum, barium, cold tar, and disease pathogens to name a few. Climate change is real, but what is the cause of it? The debate goes on. nonetheless, Geo-Engineering is poisoning our environment and killing all life on planet earth. We are headed for biosphere collapse or omnicide based upon the rapid decline of the earth's ecosystem. Some say that We have only about 2 to five years remaining. Predictions may differ, but the proof is undeniable. They are killing the planet. Watch the documentary Movie entitled "Planet of the Humans by Michael Moore".
7. GMO Foods: The article 50 problems caused by GMOs worldwide details many books that have been written about the destructive nature of GMOs. This is one of the easiest researched topics on the internet. GMOs fit into the depopulation agenda and are a big money-maker for chemical companies. GMOs promised to raise production and reduce costs for farmers, however, just the opposite is true. We now have superbugs and superweeds causing the use of more Round-up containing Glyphosate which kills the good bacteria in our guts causing an epidemic of autoimmune diseases. It also changes human DNA. Glyphosate is water-soluble and has saturated our entire Eco System. See a reference regarding Indian farmers. Jeffery M. Smith has written 2 books on genetically engineered foods.
8. Mind Control: Mind control has many facets. There is a frequency for every disease and every emotion. The original author of mind control was Satan the devil. Ephesians 2:2 in which you once walked according to the course of this world, according to the prince of the power of the air, of the spirit that is now working in the sons of disobedience, please notice the prince of the power of the air which provokes attitudes and emotions including complete demon possession.
John 13:2 And supper taking place, the devil having already put it into the heart of Judas Iscariot, Simon's son, to betray him;
MK Ultra is the most famous mind control device. That frequency along with other frequencies are broadcasted through electronic devices and electrical transmission lines, subliminal thoughts, and images flashed to our subconscious minds through the electronic media. There are other methods that are above top secret like the microchip, their ultimate control device. It may be delivered through mandatory vaccines. We are yet to know how it will affect our minds, but avoiding the onslaught of dangerous radiation is no longer possible. The best you can hope to do is minimize your exposure.
9. Social Engineering: The book "Silent Weapons for Quiet Wars" on the internet is a free download for those who are interested in it. They will even read it to you. It is approximately one hour. The book explains how their methods influence every facet of culture and society to fulfill their agendas such as education, history, politics, etc. Immigration is a large part of their agenda when you have open borders instead of people legally, on a gradual basis, assimilating into their new country. Illegal immigration is a mixed-up, confused mess causing people to lose their culture, history, and religious beliefs. The goal is to cause people to lose their identity and history so they can be shaped into the mindset of the New World Order, a new religion, a new currency, new governance, to enslave people to worship Satan. Do not think you would ever do that. Most people are so deceived through pagan customs and traditions they already do it. Social engineering has now advanced into technocracy – total control of negative, fake news trolls on the internet. All social media is designed to control and affect people's entire physical make-up such as what you buy, how you vote, and your entire social intercourse with others and different organized affiliations. Social Media is the ultimate, physical ops weapon and intelligence gathering tool. I personally have never been on social media. One puts themselves and their friends in great danger as everything goes into a giant database that will one day be used against you.
10. Transhumanism: This is a fool's errand thinking you can achieve eternal life through technology instead of asking that the blood of our Messiah will cover your sins. This will end up like the movie, the Matrix. Due to many years in the ministry, I have learned that demons cannot only possess people but objects like AI robots, idols of stone or wood, pagan symbols, animals, houses, etc. Over the years, I have had to cast demons out of people and bankers who finance both sides getting very rich. The war to end all wars – when was that? That will occur at the battle of Armageddon when Yahushua returns to end it. Read the book War's A Racket by General Smedley Butler. I am a Veteran and thank my fellow Veterans for their service and my sincere condolences to the families and their loved ones who paid the ultimate price! Notice the first part of Proverbs 22:7 "the rich rule over the poor." George Orwell's book entitled "War Against a Foreign Nation" only happens when the very rich class of people think they are going to profit even more from it. "If my sons did not want wars, there would be none" spoken by Mrs. Schnaper, the wife of Mayor Amschel Rothschild and mother of his five sons. A quote from an article entitled All Wars Are Bankers Wars from the News Beacon of Ireland.
11. EMF – Electromagnetic Radiation/Nuclear Radiation: These also tie into mind control. We are electrical beings with the same frequency as the earth. Prior to electricity, people walked barefoot or had leather footwear which allowed them to be grounded in harmony with the earth and nature. Now everything is scrambled – called electromagnetic confusion which affects our health in countless ways and contributes to auto-immune diseases, brain cancer, diabetes – everything is connected. Our ability to think and focus is affected too. The palm tree in my front yard died due to the streetlamp being on in the evening that killed it. Many living things are dying and being destroyed. Fukushima radiation is killing the oceans along with Geo-Engineering.
Hosea 4:3 a Scripture for our time. "Therefore, the land mourns, and everyone living there languishes, with the beasts of the field and the birds of the heavens. And the fish of the sea are dying."
In the world of 2022 electricity and radiation are emitted from many sources: appliances, cell phones, TV, computers – even ordinary electricity is harmful to our health because it is dirty and used as a carrier wave for other types of destructive frequencies such as lily waves. Radar and radio waves circle the globe throwing everything into electromagnetic confusion which disrupts the natural harmony of our human frequency. So, what is the purpose of the "Internet of All Things" having everyone chipped and tattooed – all connected to one giant matrix?
Revelation 13:15 And there was given to him to give spirit to the image of the beast, that the image of the beast should both speak and cause to be killed as many as would not worship the image of the beast,
Revelation 13:16 And he causes all, both small and great, and rich and poor, and free and slave, to be given a mark upon their right hand or upon their foreheads,
Revelation 13:17 and that no one should be able to buy or sell except he that has the mark or the name of the beast, or the number of his name.
Revelation 13:18 Here is the wisdom! He who has understanding, let him calculate the number of the beast, for it is the number of a man, and his number is six hundred and sixty-six.
This is total surveillance and total slavery. There is no free choice. All powered by 5G – a killer frequency, but necessary to complete their world dominance. The frequency may be tied to CERN or other super-computers. Some are waking up to 5G knocking down and burning 5G towers. Even the big tech companies are claiming that 5G and other dangerous frequencies are harmless. There is no solid research to prove that! We are all guinea pigs without our permission! An unprecedented holocaust and crime against humanity make Hitler look like nothing more than a schoolyard bully. There are tons of research studies on the internet. Prove it to yourself before the internet is censored or taken down completely. Time is not on our side!
12. Child Sex Trafficking: This is nothing new, only now it is more organized. It is a major source of income for the Globalists. It includes human sex slaves, organ harvesting, satanic worship services, killing and drinking the blood, and eating the flesh of our innocent and precious children. Pedophilia has become an epidemic. It is rampant in Hollywood, in the slums of big cities, and in the places of royalty. These people are sick monsters because the one they worship is a sick, insane creature named Satan the devil. History is filled with human sacrifices and Satan worship. http://yahsassembly.org/2022/06/12/satans-plan-for-mankind-written-study/