A MAN REAPS WHAT HE SOWS
Galatians 6:7 – Be not deceived; Yahweh is not mocked: for whatsoever a man soweth, that shall he also reap.
II Corinthians 9:6 – But this I say, He which soweth sparingly shall reap also sparingly; and he which soweth bountifully shall reap also bountifully.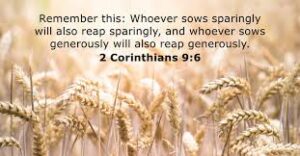 A man always reaps what he sows, this is Scriptural correct and the main reason there is so much suffering in the world, through disobedience to Yah's word.