Set Apart and the Sabbath are part of our special identity and calling from Yahweh.  We are called to be Set Apart as He is Set Apart – set apart as His special work and creation in us.
I Peter 1:15-16 – But as he which hath called you is Set Apart, so be ye Set Apart in all manner of conversation; Because it is written, Be ye Set Apart; for I am Set Apart.
The Sabbath is a sign between Yahweh and His people.  It is our special identity with Him.
Exodus 31:13-17 – Speak thou also unto the children of Israel, saying, verily my Sabbaths ye shall keep: for it is a sign between me and you throughout your generations; that ye may know that I am Yahweh that doth sanctify you. Ye shall keep the Sabbath therefore; for it is Set Apart unto you: every one that defileth it shall surely be put to death: for whosoever doeth any work therein, that soul shall be cut off from among his people.
Six days may work be done; but in the seventh is the Sabbath of rest, Set Apart to Yahweh: whosoever doeth any work on the Sabbath day, he shall surely be put to death.  Wherefore the children of Israel shall keep the Sabbath, to observe the Sabbath throughout their generations, for a perpetual covenant.  It is a sign between me and the children of Israel for ever: for in six days YAH made heaven and earth, and on the seventh day he rested, and was refreshed.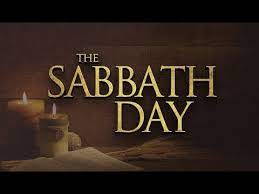 These scriptures not only say it is a special sign between Yahweh and His people and because of the Sabbath YAH sanctifies us – or Sets us apart from the rest of the world.  We are also set apart or sanctified because we obey His Word of Truth.
John 17:17 – Sanctify them through thy truth: thy word is truth.
This is all a part of our covenant relationship with Him. Ancient Israel went into captivity because of Sabbath breaking.  There are many scriptures that show YAH displeasure with Israel over profaning the Sabbath.
Page 2