II Timothy 1:6 Wherefore I put thee in remembrance that thou stir up the gift of Yahweh which is in you by the putting on of my hands.
II Timothy 1:7 For Yahweh has not given us the spirit of fear, but of power, and of love, and of a sound mind.
The only sane, sound mind is the mind of the Father and Messiah.
Greek – Sound Minded #4995
Strong's Concordance #3637 in the Hebrew it means to put to confusion, Separation from our Creator and His Spirit which leaves man Spiritually Blind – unable to be of Sound Mind.
Isaiah 1:5 Why should ye be stricken any more? You will revolt more and more: the whole head is sick, and the whole heart is faint.
Isaiah 1:6 From the sole of the foot even unto the head there is no soundness in it; but wounds and bruises, and putrefying sores; they have not been closed, neither bound up, neither mollified with ointment.
Solomon said,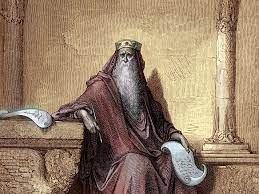 "There is nothing new under the sun." This has been the prevailing mindset since the fall of mankind in the garden. This is the raw, carnal mind of the unconverted person that represents most of humankind.
Page 6