Deuteronomy 30:19-20
Deuteronomy 30:19 I have called the heavens and the earth as witnesses today against you; I have set before you life and death, the blessing, and the curse. Therefore, you shall choose life, so that you live, both you and your seed.
Deuteronomy 30:20 to love your Elohim, to obey His voice, and to cling to Him – for He is your life and the length of your days – to dwell in the land which Elohim swore to your fathers, to Abraham, to Isaac, and to Jacob, to give them."
I wrote this book to give hope to a dying planet and to share the only truth that can make us free from sin and the darkness and deception of Satan and his New World Order. What can you do?
1. Study, pray, fast, and meditate.
I Thessalonians 5:21 Prove them all. Hold fast to what is good.
2. Be very careful where and when you worship. Remember, there are no denominations or corporate churches mentioned in Scripture. The word "church" is not in the original Greek or Hebrew. Its origin is Sun Worship.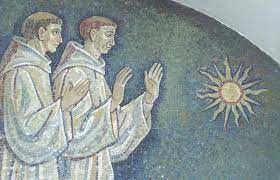 The word "church" is always mentioned as an assembly or congregation. Messiah describes His disciples as a "little flock."
Luke 12:32 Do not fear, little flock, because your Father did delight to give you the reign.
They are a Spiritual body of scattered believers that share a common belief and are united by that one common belief and Spirit.
Ephesians 4:4-7.
Ephesians 4:4 one body and one Spirit, as you also were called in one expectation of your calling,
Ephesians 4:5 one Master, one belief, one immersion, one size fits all.
Ephesians 4:6 one Elohim and Father of all, who is above all, and through all, and in you all.
Ephesians 4:7 But to each one of us, the favor was given according to the measure of the gift of Messiah.
3. Come out of the world.
Revelation 18:3-5.
Revelation 18:3 because all the nations have drunk of the wine of the wrath of her whoring, and the sovereigns of the earth have committed whoring with her, and the merchants of the earth have become rich through the power of her riotous living."
Revelation 18:4 And I heard another voice from the heaven saying, "Come out of her, my people, lest you share in her sins, and lest you receive of her plagues.
Revelation 18:5 Because her sins have piled up to reach the heaven, and Elohim has remembered her unrighteousness.
Page 75
Pages:
Page

1
,
Page

2
,
Page

3
,
Page

4
,
Page

5
,
Page

6
,
Page

7
,
Page

8
,
Page

9
,
Page

10
,
Page

11
,
Page

12
,
Page

13
,
Page

14
,
Page

15
,
Page

16
,
Page

17
,
Page

18
,
Page

19
,
Page

20
,
Page

21
,
Page

22
,
Page

23
,
Page

24
,
Page

25
,
Page

26
,
Page

27
,
Page

28
,
Page

29
,
Page

30
,
Page

31
,
Page

32
,
Page

33
,
Page

34
,
Page

35
,
Page

36
,
Page

37
,
Page

38
,
Page

39
,
Page

40
,
Page

41
,
Page

42
,
Page

43
,
Page

44
,
Page

45
,
Page

46
,
Page

47
,
Page

48
,
Page

49
,
Page

50
,
Page

51
,
Page

52
,
Page

53
,
Page

54
,
Page

55
,
Page

56
,
Page

57
,
Page

58
,
Page

59
,
Page

60
,
Page

61
,
Page

62
,
Page

63
,
Page

64
,
Page

65
,
Page

66
,
Page

67
,
Page

68
,
Page

69
,
Page

70
,
Page

71
,
Page

72
,
Page

73
,
Page

74
,
Page

75
,
Page

76