It is immutable and none can escape its consequences from the trillionaire to the peasant. We all reap what we sow. The law of cause and effect is ever present and sometimes the results are delayed working out His greater purpose with mathematical certainty. We will not escape the law's power. Noah's flood happened. Sodom and Gomorrah happened.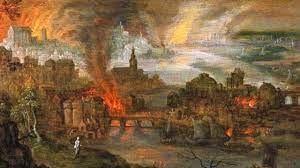 Revelation 20:11 And I saw a great white throne, and him that sat on it, from whose face the earth and the heaven fled away; and there was found no place for them.
Revelation 20:12 And I saw the dead, small and great, stand before the throne; and the books were opened: and another book was opened, which is the Book of Life: and the dead were judged out of those things which were written in the books, according to their works.
Revelation 20:13 And the sea gave up the dead which were in it, and death and (Sheol means the grave) delivered up the dead which was in them: and they were judged every man according to their works.
Revelation 20:14 And death and (Sheol) were cast into the lake of fire. This is the second death.
Revelation 20:15 And whosoever was not found written in the book of life was cast into the lake of fire.
All humankind must face judgment. Neither Trans humanism technology nor the laws of cause and effect of any kind will save them.
*Sheol The Grave in the Scriptures Translation Bible.
Sheol in the Hebrew Bible is a place of darkness (the grave) to which all the dead go, both the righteous and the unrighteous, regardless of the moral choices made in life, a place of stillness and darkness cut off from life and from "god."
page 5